Join Anne at one of her next training events! To register or find out more about the event, click the link listed.
To learn more about Anne's mediation training, read "Advanced mediation training explores non-traditional conflict resolution," featured in the Grand Rapids Legal News.


May 23, 2019: Advanced Mediation Training (8 hrs)
"What Lies Below? Diving Deeper in Mediation" -- Reprised!
The winter weather prevented many registrants from attending this training in February, so we're offering it again!
Pre-approved by SCAO to meet the Advanced Mediation Training requirements of Michigan Court Rules for mediators on court rosters.
This training is aimed at licensed attorneys, as we explore the intersection between mediating poorly and attracting attorney discipline attention.
Location: Kent County Courthouse, downtown Grand Rapids, 5th floor
Time: 9 am to 5 pm
Register at event-brite

July 16-19, 2019: Conflict Coaching and Mediation Training
These advanced trainings in biblical peacemaking build on the foundational Peacemaker Seminar.
Training sponsored by ICC Peace
Location: Saddleback Church, Lake Forest, California
For more information and to register, click here.


September 26-28, October 11-12, 2019: General Civil Mediation Training (40 hrs)
SCAO-approved 40-hour mediation training course. This course fulfills the Michigan Court Rule training requirement (MCR 2.411(F)) for persons interested in applying to Michigan court mediator rosters for general civil (not domestic relations) cases.
Training sponsored by the Institute for Continuing Legal Education
Location: St. John's Conference Center, Plymouth MI
Time: 8:30 am to 5:30 pm each day. Attendees must attend all five days. Register
----------------------------------------------------------------------------
Advanced Mediation Training Topics

Confidentiality: Matching Our Walk to Our Talk – Mediators promise that the mediation will be "confidential" but research shows that mediation communications are disclosed in court all the time, often without objection, and sometimes by the mediator. We discuss what mediators say in their retention agreements and opening statements about confidentiality, review court cases where confidentiality was breached, and consider ways to more carefully describe confidentiality to mediation parties.

Apology in Mediation – Apology may be the key to resolving some cases, yet mediators miss the cues, or don't know how to facilitate the apology that parties need. We review the elements of an effective apology, how mediators can detect whether an apology would be helpful, and how mediators can facilitate the giving and receiving of an effective apology.

Writing Durable Mediation Agreements – Learn from other mediators' mistakes: We review actual court cases, both written court opinions and brief video clips, where agreements were challenged, to learn how mediators can help parties come up with agreements that won't invite subsequent court challenges.

Unauthorized Practice of Law – Both attorneys and non-attorneys can get themselves into trouble with UPL when they mediate. The State Bar of Michigan has developed guidelines for mediators, but you may not agree with them. We discuss these, as well as real-life scenarios, then roleplay better responses to those situations.

"Things Mediators Hate to Hear" –Are there certain things you just hate to hear from parties in mediation? Things like, "I didn't come prepared to make an offer today," or, "My client wants me to do all the talking for him." Instead of getting mad, frustrated, or panicky, learn -- and practice -- some artful responses to those things we hate to hear.

Ethical Dilemmas – Mediators often run into ethical dilemmas—sometimes without even realizing it. We review real-life ethical dilemmas, and consider how best to respond. Compare your gut responses with the Model or the Michigan Mediator Standards of Conduct. (I try to include a segment on Ethics in every AMT I do.)

Reflective Practice – How can mediators improve their skills when confidentiality prevents them from sharing what happened? Reflective practice is one answer, a personal means of improving mediation skills and insights. Participants take time to think of a recent mediation, then complete a worksheet that takes them through a series of questions designed to help them improve their mediation skills by reflecting deeply on their work.

Working with Emotions in Mediation— Mediations are usually emotional. Mediators and attorneys may want to manage emotions by suppressing them, out of fear that emotions will control the process. This usually backfires. This workshop will demonstrate how to work with emotions in mediation, by viewing video clips and roleplaying ways to incorporate emotions into successful mediations.

10 Ways Mediators Get Sued –We review a law review article by Prof. Michael Moffitt suggesting ways mediators could get sued, and identify ways to minimize the likelihood of mediators making those mistakes.

Agreement-writing Checklist – This ten-point checklist, developed in cooperation with Wayne State Law School Professor Vince Wellman, guides mediators as they assist parties in drafting durable agreements.

Co-Mediation -- Like dancing, co-mediating can be a beautiful thing or stepping on each other's toes. This workshop focuses on how to be, and how to have, a good co-mediator, including scenarios and practice roleplays.

If you are interested in booking Anne for a training, contact her via e-mail today.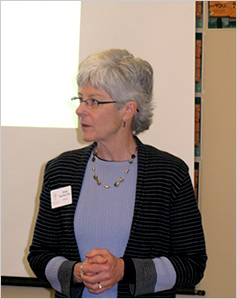 "The 40-hour mediation training was an excellent program, not just in preparation to become an approved mediator, but in everyday application. This well-executed program can develop a professional at many levels, even those advanced in their careers."
Jill Mulder, J.D., Ll.M., EVP & Counsel

"Anne's preparation, passion and confidence was extremely helpful in building understanding and confidence in me." Terry Heiss, Ada Legal Group

"The program was very well designed and presented; the instruction from Ms. Bachle Fifer and her guest speakers was excellent."
Wayne D. Roberts, Varnum, LLP

"After 30 years on the bench, this educational program and training, the role-playing in particular, provided me with the perfect transition to the art of mediation." Ted Johnson, 88th District Court Judge, Retired

"I have attended my fair share of legal education classes. This is, hands down, the best class that I have attended. The 'adult education model' that you use is great, and you have a great mix of lecture and role playing. I also appreciate that the role playing increased from smaller discrete parts of the mediation to an entire mediation. I can tell that a lot of work went into getting this class right." Al Bower, Attorney, Grand Rapids MI